MRD Inserter - Refurbish and Rebuild
Whether it is a refurbish or a rebuild, the equipment goes through MRD Quality Inspection. Before packaging, we test materials at maximum speeds that the equipment was originally designed. 
Refurbishing: The inserter is taken down to its frame. The frame and the surface plates are sent out for powder coating. All parts are inspected and replaced if needed then reassembled. We upgrade some of the parts to our modifications.
Rebuilding: Just like refurbishing, we take the inserter down to its frame. The frame and all plates are sent out for powder coating. All drive bearings are replaced. All bare metal parts such as cams, sprockets, and shafts are sent out to our local vendor to get blackened with black oxide at military grade quality. Some control boards are replaced with new units. The pump, motor, and power supply are upgraded to today's technology.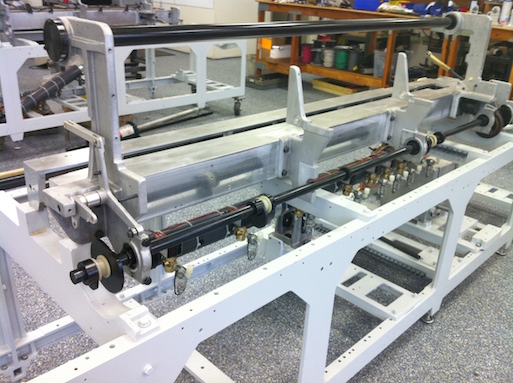 We are also currently developing our own base control system to replace most (eventually all) of the electronic boards of the inserter. This will match our new MRD feeder/folder control system.
Check out the photos the videos of our inserter rebuild or refurbish process. Our customers and some of our partners have a few videos of our inserters in YouTube.