MB PrestigeFOLD NET 52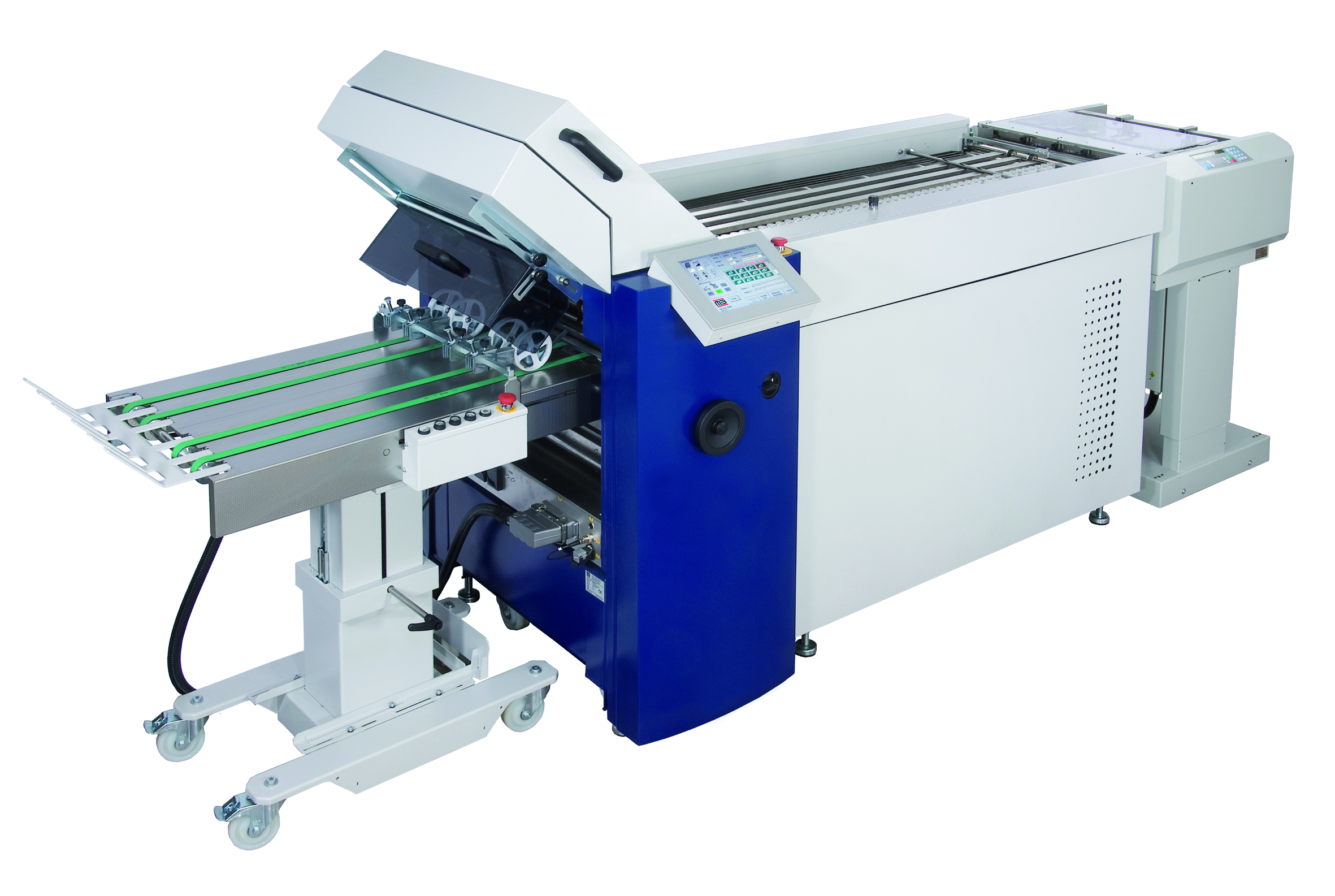 Intelligent machine control and touch-screen operation simplify the folding process. The central touch-screen panel is the interactive operator interface where all important settings are made. Manual interference is reduced to a minimum. The operator guidance is self-explanatory and organized analogous to a conventional card file. The operator knows at any time which menu is active and which options are still available. prestigeFOLD is already prepared for the future, because an interface allows integration into in-plant networks. This is the basis for transfer of data to the machine by means of a JDF-file or for production data acquisition.
Automatic from feeder to delivery
The automatic set-up system controls all settings of the machine from feeder to delivery. Starting with the unfolded sheet size, the chosen type of fold and the paper thickness measured by the paper thickness sensor, the computer control calculates the positions of the various setting elements and adjusts them accordingly. 
Form Processing
The basic fold unit prestigeFOLD NET is capable of producing all types of parallel folds. A second fold unit is needed for producing crossfolds.
For especially high demands on the processing variability, model prestigeFOLD NET SL is available as a second fold unit. It can also be used as a stand-alone machine, because it is equipped with its own drive and control panel.
This feature allows using the fold unit within a folding system in conjunction with other fold units or as a stand-alone unit. A large variety of applications is therefore possible. 
Fully automatic machine set-up

Sturdy Construction

High degree of adaptability

Networking Capability

Modern Industrial Design
Paper Sizes
NET 38:
max: 38 x 65 cm (14 15/16" x 25 9/16")(PBA)
min: 7 x 12 cm (2 3/4" x 4 11/16")(PBA)
max: 38 x 75 cm (14 15/16" x 29 17/31") (FSA)
min: 10 x 12 cm (3 15/16" x 4 11/16")(FSA)
NET 52:
max: 52 x 85 cm (20 7/16" x 33 7/16")
min: 10 x 12 cm (3 15/16"x 4 11/16")
Fold Length:
min: 3.5m (1 3/8")
Paper Weight:
40 to 250 GSM (1.3lb. bond to 90lb. cover) (for single parallel fold)
Speed:
max: 220 m/min (721.6 ft/min)(depending on paper quality)
Electrical:
Voltage 3 x 400 V / 50 hz / N / PECurrent consuption max. 10 A

Voltage 3 x 208 V / 60 Hz / PE Current consumption max. 16A
For continuous forms: 
Foldunits: Automatic setting of alignment rails, fold plate stops, deflectors, and fold rollers

Delivery: Automatic settings of hold-down rollers

Commands are enteredat the central touch screen operator panel

20 Standard folds are pre-programmed

Individual programming of other folds

More than 200 jobs can be saved in the memory

Paper thickness is determined by means of the paper thickness sensor

CIP4-compatibility
Benefits
Simple handling

Short set-up times

Minimum waste
Specifications
Paper Sizes       Length                                                      Width                       
DAT 24                Max.                          Min.                         Max.                         Min.
one-up                 610 mm (24")          100mm (4")            520mm (20")          100mm (4")
two-up                 610 mm (24")          100mm (4")            230mm (9")             120mm (4 11/16")  
art 52                                                                                                                          
one-up                 1320mm (52")        100mm (4")            520mm (20")           100mm(4") 
Fold length: min. 3.5 (1 3/8")
Paper weight: 40 to 250 GSM (13 lb. bond to 90 lb. cover) for singleparallel fold
Speed max: Up to 220 m/min (721.6 ft/min)(depending on paper quality)
Electrical
Voltage: 
3 x 400 V / 50 Hz / N / PE

3 x 208 V / 60 Hz / PE
Current Consumption: 10 A
Power Consumption: prestigeFold NET 52/6 with DAT or ART : .9kW (900W)
Delivery Am 52: .1kW (100W)
Weight(net): 
prestigeFOLD NET 52 with DAT: 460 kg (1014 lbs.)
presigeFOLD NET 52 ART: 550kg (1213 lbs.)
Delivery AM 52: 80 kg (176 lbs.)
Optional Equipment:
Mobile knife fold unit MS 45

Additonal fold unit KF 31

Cutting device

Gate fold plate

Pharmaceutial fold unit

Gluing device

Small format vetical stacker

Software module for barcode reading

Remote maintenance module

Timed perforation

Timed cutting

Center cut-out device

Side trim device

Scoring and perforating tools 

Kicker for delivery